Slate plinths made to your requirements - within reason!
---
Slate and other stone plinths are usually made in sections: the flat chunk of rock that the gubbins and so-on[1] are screwed to is cut and finished, and the legs or skirt are made and bonded on afterwards.

Extremely rich and discerning customers may wish to have their plinth hewn out of a solid block. This confers no extra acoustic advantage, though it will impress the neighbours.

The four examples here are pictures made from the unbonded components so that a variety of arrangements can be shewn.

If your choice is for the plinth to have slate legs at the corners, they can either be fixed flush with the sides or inset so the edge overhangs, the latter option allowing the plinth to be carried on a narrower shelf than its width might otherwise permit.
You may think it enhances its appearance too.

Alternatively, several patterns of spikes are available, and these require silver steel cups to be inseted in the underside of the plinth.

The plinth shown is of slate and has been waxed. Natural worked slate is also available.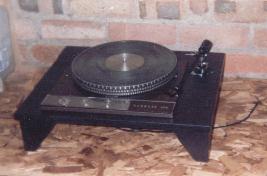 Plinth overhanging corner supports with Grace arm mounted. Bare plinth cost P.O.A.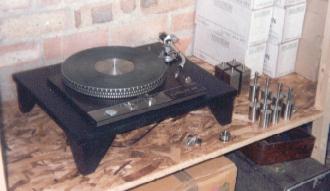 Same arrangement but a SME 3009 is mounted. Also in the picture is a selection of spikes: the cylindrical ones are made for the Garrard 301 plinth, and the small object in the foreground is the mini-spike which can (with more of the same) be used either to decouple a plinth or speakers.
Bare plinth P.O.A..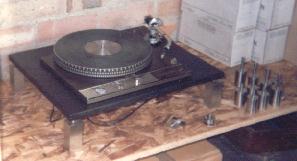 Showing the main part of the plinth supported on spikes. SME 3009 arm mounted. Pickup is B&O Fluid Flux.
Cost of bare plinth to be worked out, but it will be in the region of 180 pounds Sterling. A set of spikes with square-section stainless steel bases is 160 pounds Sterling. The cylindrical based spikes are cheaper because they can be turned, and no milling is involved. Estimate about 100 pounds Sterling.

The mini spikes will be P.O.A. a set of four, this to include the blocks for them to stand on.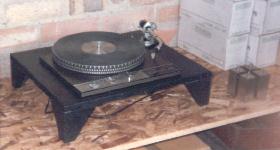 The legs in this picture are flush with the sides of the main slab. SME 3009 mounted, carrying B&O Fluid Flux pickup. Bare plinth P.O.A..



All spikes are adjustable for height.



[1] These are technical terms.