---
Regular visitors to this site may notice that it is very slowly being edited and made a bit more compliant with protocols. My excuse is that it was begun around ten years ago and it seemed to work, more or less. However, every now and again I have a furkle around and - er - blush.

A new page is being constructed, but if you navigate round the site you'll see that I've a lot of other things going on - building a garage, workshop, greenhouse, rearranging the garden, fettling the fireplace in the front room, ditto (with chimneybreast 'adjustment') in the kitchen, work on existing outbuildings - etc..

So, please bear with me. (And come and give me a hand, if you like...)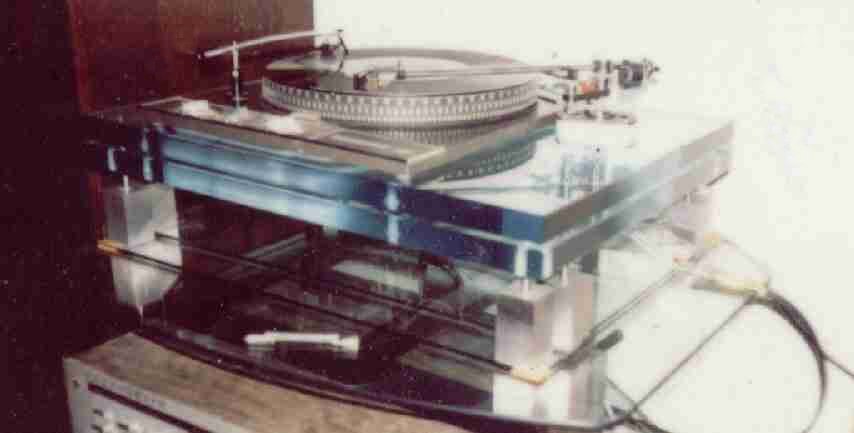 2 decoupled plates of (approximately) 1" thick glass, cut to accept Garrard 301 or 401 motor unit and any desired tone-arm.


Click "Glass Plinths" link to see options for other materials.
---
---
---
Hi-Fi
---
---




e-addy link at bottom of page.


Things have moved on a bit, and this may be fine for dusting

and polishing and impressing the neighbours, but if you really want high-end sound as well as style, you have to try a little harder.
---

Slate Plinths - Styles and choices. Pick'n'mix.

Glass Plinths - Styles and choices. Pick'n'mix.

---
Remote Links


Extreme Ironing? this is probably not a very Sheddy occupation as it doesn't include a sofa.
---
---
Local Links


Local News - Drawing Match in the village of Carleton Rode, 20th September, 2008

---



Breaking News! (Winter - Spring 2014)

Beer and Ales Bonanza!



The Vine (Norwich's smallest pub) The Vine, Dove Street, Norwich. Winter Beer Festival: Monday Jan 27th to Saturday Feb 1st.

Beer and ale list





Norwich, City of Ale 2014 - May 22nd to June 1st. A plethora of pubs with more brews than you could shake a yard of ale at. Norfolk and Suffolk probably have the greatest concentration (concentration, I said!) of real ale brewers and microbreweries.



---
More from Norwich (A Fine City)
---

Elm Hill. A fascinating street with, if anything, a more fascinating history.

---

DO NOT CLICK! - Curiosity...

Shed Pages - An attempt to illuminate some of the darker corners of everyone's - well, nearly everyone's - well, to be more accurate, many people's - well, someone's, anyway - shed.

A sort-of insight into something or other - A continuation of the Shed Continuum. Sensibly-sized pretty pics, but lots offem, and may take a little while to load.

Another insight - Some rather more prosaic Shedding, with pretty pictures.

An insight into loquation, loquation, loquation - and tough on the causes of loquation - Amongst the Mountains of East Anglia, with trousers, and more pretty pictures.

Some interesting fungal finds. - This page will be added to if and when new oddities or some rarer species are found, plus any observations which I find intriguing.

Work in progress. - This page will be added to as and when restoration work is carried out.

ECHINS - Cover, 'A' side and 'B' side labels of elderly Brunel rag record. - Put up by request of contemporary Brew Nell students.

Recipes Not your usual 3-course meal, foreign stuff with garlic and spices, or fairy cakes, this tells of dishes the normal housewife does not meet, and very likely does not wish to.

Visit to The RoyalGunpowder Mills, Enfield, Sunday 19th May 2013. - This page will be added to - it is currently under destruction construction.

Beer and Ale in Norwich. - Beer and ale festivals in and around Norwich, and (I expect) a growing list of recommended watering holes. Please note - while recommendations via emu are encouraged, I will not add any pub, bar, hotel to the list until I have supped there and approved.



Wotsits - Objects of unknown application, for which suggestions are invited.

Garden topics



e-addy



---